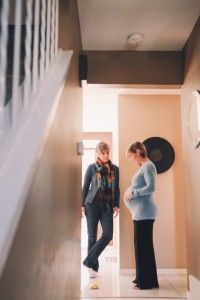 We begin by meeting for a free initial consultation and compatibility check in the comfort of your home or in a comfortable agreed upon location.
If Hired, 4 Centering Prenatal Visits:  The way we do pregnancy in America is based on a longstanding cultural value of individualism. This can leave many women feeling isolated during pregnancy and postpartum. Though birth is undeniably and rightly so, a deeply private and intimate event, the prenatal period is a time of great opportunity to re-establish (or build for the very first time) a community of trust and support. The saying, "it truly takes a village" could never be more true. Therefore, after much research and consideration, I have teamed up with three other like-minded Birth Doulas to form the Birth Doula Centering Model Of Care. Pregnancy, birth and raising of a child is personal, but it is also communal. We want to help with both.
Birth Doula Centering Model Of Care Specs:

2 meetings per month

4 rotating topics

4 doulas present at each centering meeting (with the exception of unique circumstances)

each family decides how many/which topics to attend (we encourage all 4, even for second, third, and fourth time families)

1 central location

1:1 doula meetings available at the end of each meeting

 Families get much more than a typical doula package. This is the future of birth doula support!

For more information on the Birth Doula Centering Model Of Care, please

Throughout your pregnancy I offer telephone support. I'm available 24/7 just prior to your due date until you give birth. As soon as you want me by your side, I'm there within one hour. *
During labor, I join you when you feel like you feel like you really need me to help navigate active labor all the way until after you greet your baby. I employ relaxation/visualization techniques and other non-medical ways of dealing with labor pains, facilitate communication and serve as your advocate with caregivers (doctors, midwives, and nurses) and overall, ensure your maximum comfort.
Postpartum, I visit with you and your family one or two more times to discuss your birth experience. We also discuss infant care, breast feeding, postpartum mood disorders, and anything else you need. (see postpartum services if you have additional needs)
You also receive a photo documentation of your birth if you wish.  I provide this free of charge with your camera or mine.  I do not edit or photoshop.  You will receive a CD or flash drive.  If you want to hire a private Birth Photographer please see my affiliate page.
Birth doula services fee. Our first visit is a no-obligation consultation and is free of charge. Half-payment ($800) is due at our second meeting and the remaining half ($800) is due two weeks prior to your due date. Please note that full payment is due prior to labor.
*In the event of an emergency, I have a guaranteed back-up doulas available.